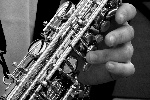 Estéban Restaurant and Monterey Jazz Festival announce the 2
nd
annual Next Generation Jazz Dinner Series. On May 30
th
, 2019, 5:00 - 7:00 p.m. some of the best jazz students in Monterey County will perform on the Terraza at Estéban Restaurant. The Next Generation gigs will continue every Thursday from 5:00 to 7:00 p.m. until September 12
th
, 2019. Reservations are required. Performances are included with your meal.
Click here for a full list of performances.
Estéban Restaurant, located adjacent to historic Casa Munras Garden Hotel & Spa, is the heart of authentic Monterey dining. Serving modern Spanish cuisine, Estéban Restaurant invites guests to sip, savor, and share. The hotel and restaurant are part of the Inns of Monterey, a primary sponsor of the Monterey Jazz Festival.